For new fields that break the concept of gravure printing; Cleanliness level of up to a class of 10,000
Food Safety
A management system will become necessary that undertakes the elements of risk management and compliance in order to contribute to sustainable growth of companies involved in the food industry, with the official enactment of ISO22000 (a management standard based on HACCP).
Also, a characteristic is that the specifications cover then entire food chain.
Specifically, the entire organization, from the farm to retailers, and up to delivery of food to general consumers, is targeted. This can truly be called the same as the food safety philosophy as that of From Farm to Table.
The food chain includes directly related industries such as cleaning companies and shipping companies. The companies to which this applies cover a wide scope.
For that reason as well, the need for clean printing is being revisited to enable printing in a cleaner environment.
Contamination Prevention
As more and more work is being done in a clean-room environment in food-related industries, and of course those for construction materials and medical, processing is necessary that uses printing and printing technologies in clean rooms to print packaging and semi-finished products to support those needs.
Nakamoto Packs is moving forward with the expansion of clean printing under our motto of reducing user clean-room contamination as much as possible.
Also, we are able to provide this at a lower cost than processing using the coater.
Clean Gravure Printing (No. 8 Printer) Overview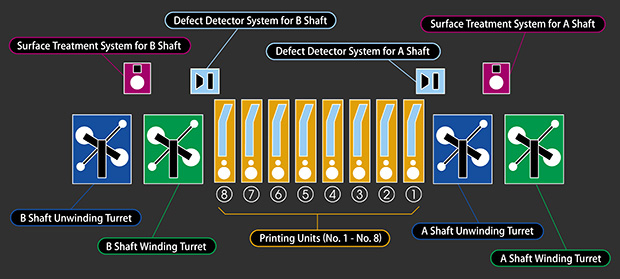 Clean Level: Head Unit: Level 10,000/work space: Level: 30,000 - 50,000
CGravure Printing 8-color Machine (A Shaft: 1 - 8 colors; B Shaft: 1 - 8 Colors; sortable)
CPrintable Width: 1,250 mm (Original material width: 1,300 mm)
CDrying Capacity: Each unit: Max.: 100˚C x 90 m3
CLine Speed: Max.: 200 m/min
CDefect Detector: Records defect history, and defect images; can be output.
CWith vertical/horizontal register auto-correction feature