Supporting our customers' strict needs with our slitter process in our consistent, and clean environment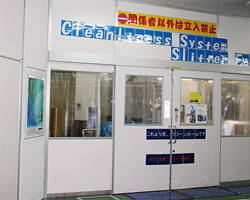 We implement cleanliness consistently from the processing line to respond to high-quality packaging requirements in the IT and medical fields where demand continues to grow.
We can support a variety of high-quality needs including those for electronic components and medical and optical components and others by maintaining a thoroughly clean slitter in the finishing process.
This is our commitment to clean converting.
Features of the Clean Slitter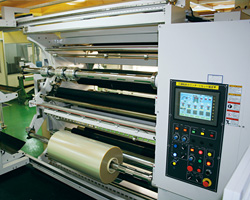 ● Installed with a high-performance, in-line detection system that detects foreign matter up to 0.1 mm square objects.
● Maintains a cleanliness level of class 1,000 or lower in the work space, with our commitment to complete cleanliness.
● Installed with a static neutralization feature that keeps the electric charge of the winder to 1.0 kv or lower.
● We offer complete quality control.
Clean Slitter Equipment Overview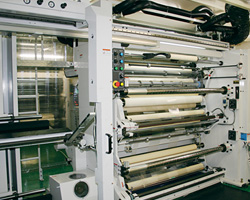 | | |
| --- | --- |
| Winding Specifications | Up and down, 2-axes, air shaft, friction shaft |
| Base Material Thickness | 12 - 250 micron |
| Roller Surface Length | 1,400 - 1,800 mm |
| Supported Roll Width | 1,300 - 1,700 mm |
| Maximum Unwinding Diameter/Weight | Diameter 800 mm, 800 kg (per axis) |
| Maximum Winding Diameter/Weight | Diameter 700mm, 400kg (per axis) |
| Minimum Cutting Width | 80 mm |
| Cutting Speed | 1 - 400 m/min |
| Special Equipment | Straight line, and curved shear cut, in-line solid color inspection system, adhesive-foreign matter pick-up roller, ultrasonic vacuum cleaner, high-performance static elimination system and others |
| Clean Level | Class 1,000 - 10,000 |