Clean and safe declaration; Striving to be a corporation that is gentle on people and the environment.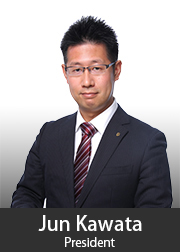 Thank you for visiting Nakamoto Packs' website.
Since our founding in 1941, Nakamoto Packs has grown by actively investing in the fields of laminates and clean coating as a key to gravure printing.
Furthermore, in our effort to be a company that can undertake all-weather management, we have expanded sales by entering into a variety of other fields outside of our main area of the food-packaging industry. Some examples include coating of electronic components, pharmaceutical packaging materials, miscellaneous goods, and automobile interior materials and the like.
However, we are witnessing major changes today. For that reason, we anticipate the business environment that our company finds itself in to become more and more difficult with the societal issues of an aging society, a dropping population, and environment issues, and a worldwide recession and other such problems.
In the future, inheriting the company motto, and the concepts of "clean and safe" which have been the management philosophy of successive generations of our management, our company of course will continue its permanent development, and will work toward developing products that consider the natural environment and the labor environment, and products needed by society. We will always continue to supply products that will satisfy our customers.
We hope you will look forward to the further evolution of our group of companies in the future, and wish to express our heartfelt gratitude for your continued support.
Company Motto
Our business depends on people. People depend on their hearts.
An enjoyable company is the sum of diligence, dedication to serving others, and people.
Our Code of Conduct
Use sincerity to earn even greater trust
Use perseverance to create innovative ideas
Always improve yourself and cooperate with others
Contribute to society through the spirit of co-existence and mutual prosperity
Be dedicated to improving technologies and overcoming challenges
Make good behavior and the spirit of gratitude a source of happiness
Our Six Missions
We will listen with open minds to what our customers say
We will constantly acquire new technologies for printing, packaging and containers
We will maintain close internal and external lines of communication and deliver goods and services on time with speed and in good faith
We will be responsible for maintaining co-existence and mutual prosperity with our customers
We will attract more dedicated fans of our group by using work and systems that generate strong impressions
We will make the Nakamoto Packs Group an organization guided by the same destiny