Continuing to send high-quality and stable products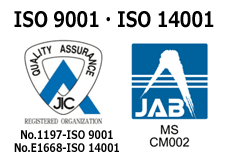 In the same way as corporations, in this age of natural selection, only corporations who prove themselves to be the fittest will survive.
The actual power expected from a manufacturing organization is said to have the ability always to continue supplying high-quality products in a stable manner.
How a company is able to maintain constant quality is an issue.
We use the ISO system from design and development to the production process, and each and every employee is always pursuing high-quality products with work and systems that impress our customers.

● Our company has obtained ISO 9001 and ISO 14001 certifications at our plants below to improve and maintain stable product quality, and to implement environment countermeasures. We are working to streamline our processes, unifying our checking system, and improving our speed.
★ January 21, 2021 Integrated ISO9001 registration in our Kanto Kansai area.
▪ No.1197-ISO9001
● Product Division Headquarters: Kanto sales office, Kansai sales office, Saitama plant, Ryugasaki plant,
 Tsukuba plant, Nabari plant, and Kashiwara plant
● Packaging Division Headquarters: Tokai sales office
 
▪ No.E1668-ISO14001: Saitama plant

● Our company fully equipped all printing machines, processing machines and rewind inspection machines with defect detectors in order to respond to our customers' strict quality demands.
We make every effort to prevent defective products from leaving the plant.
Also, we have introduced a CCM (computerized color-matching system) for color matching and controlling of colors, which are the most important elements in printing. We control data by color-matching and by using a color-difference meter to be able constantly to reproduce stable colors when repeating.

● We implement inspections and create data in line with our customers' demands and conditions, by implementing the appropriate inspections on manufactured products to confirm their adequacy.