In discussing the added value of products, the design of packaging materials has become an important factor year after year.
Individualism has promoted diversity which has resulted in the market being flooded with products, so now the need to differentiate your product has become more important than ever.
Nakamoto Packs has setup a department dedicated to creative designs, and has even hired a producer.
We offer our customers support, from both our creative staff and marketing, and serious thought into "how best to make a product that will sell" in every aspect from product planning based on marketing research, to naming, advertising copy, package design. We even proposals for the packaging type.
We offer full support from marketing to design, in our effort to "create products that sell."
We also offer total support from product planning proposals based on market research, to the final design, and even up to sales promotion proposals, again, in our effort to create products that sell.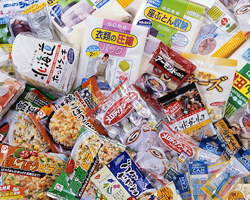 We offer market trend analyses across multiple industries, and can advise for product shapes and naming, and sales promotion methods from our accumulated know-how that we are capable of because we have a large number of clients.
We offer consulting with our total package design.
We can offer a wide variety of designs from our varied know-how, such as package planning and design, which is our forte, sales promotion designs such as POP and displays based on shop simulations, photography for product image shots, and space designs for exhibitions, and even small-scale shops and the like.

Compared to general design agencies, our design department has a broader know-how because we work with such a wide variety and a large number of clients.
Also, we are highly familiar with printing, so we never have the same kind of trouble often experienced by general design agencies, such as not being able to print the design even if the package is well-designed.
Our producer offers full support from product planning to completion of a design, and with a personal follow up with sales promotions and the like.
We work closely with the designers at the manufacturer, and our customers to create products that sell.

● All types of design creations relating to package design
(Product planning advice from the design side, product packaging type proposals in line with the sales channel, advertising copy, product naming, and design creation, photography for product image shots, and block copy production)
● From molded container plan proposals to shape designs
● Marketing, shop simulations, sales promotion designs for POP and displays (limited to proposals to produce packaging material designs at our company)
● Product photography (limited to proposals to produce packaging material designs at our company)
● Graphic designs for leaflets and posters relating to package designs
● Surface printing designs for molded containers
● Space designs for exhibitions and shops and other