One of the biggest factors that greatly affect the quality of printing is printing plate precision.
In order to supply the maximum quality, our company controls everything from processing block copy data to surface treatment of the gravure plate (chrome plating and the like), even up to the engraving on our internal consistent line.
All of our lines have been computerized. Our high-performance plate system operates 24 hours a day.
Surface Treatment (Plating Line)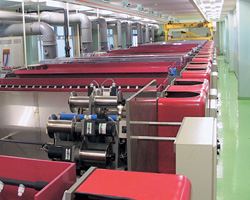 We are equipped with an unmanned, high-performance plating line system that operates 24 hours a day. Offers high-speed, and stable plating using a boomerang system.
Unmanned Automation System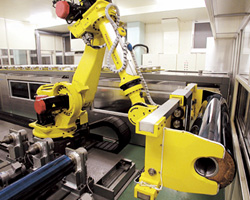 Our plate making line operates 24 hours a day, and is fully automated with the use of robots.
It is accurate and processes very quickly.
Fully Automated Digital Gravure Engraving System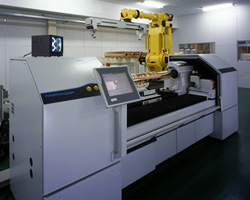 Our plate making system has been installed with a German-made, high-performance, fully automated digital gravure engraving system.
It operates 24 hours a day, and offers engraving of gravure plates.
Also, the system is linked to a computer system, so data for making plates is digitalized and inputted directly to the engraver. For that reason, the precision of repeatability is overwhelmingly different.