Clean Room, and Wide-printing Support Dry Laminator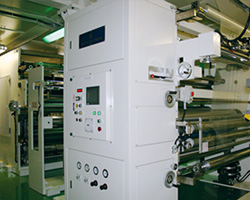 Implements wide printing and dry lamination on a consistent line in a clean environment.
Collaboration: Bulk control of the coating process after dry lamination We introduced a new machine with wide and clean specifications.
Please consult with us for thick base material.
Thickness
Width
Clean Degree
Remarks
Saitama Plant
12 - 500 µ (Proven)
Up to 1,520 mm
Head unit class: 10,000
Dual coater
12 - 500 µ (Proven)
Up to 1600mm
Head unit class: 10,000
Dual coater
Nabari Plant
PET: Up to 12 µ, OPP: Up to 20 µ
500 - 1,220 mm
Head unit class: 10,000
Dual coater
General Dry Laminator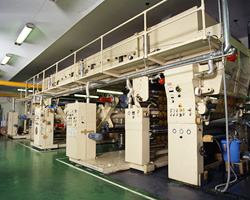 Presently, we implement dry laminate processing on thick sheets up to a base material thickness of approximately 1 mm, with a focus on PS, PET, and PP base materials or the like.
We take on any project giving all our effort to containers for fixed position molding with lamination of all types of films, and to packaging materials, by utilizing the characteristics of our machinery, such as their high-pitch precision.
We handle anything from thin films to thick sheets.

● We make every effort to protect the global environment by being aware of supporting the environment which is a social requirement for corporate activities, and to improve our new technologies and equipment with the goal of eliminating solvents.
Thickness
Width
Remarks
Nabari Plant
12 µ - 1 mm
Up to 1,250 mm
High-speed laminator (180 m/min); in-line corona treatment
12 µ - 1 mm
Up to 1,100 mm
Handles sheets
Tsukuba Plant
12 - 200 µ
Up to 1,100 mm
In-line corona treatment (No. 2 paper feed)
Detection Equipment
Clean Dry Laminator
General Dry Laminator
In-line Defect Detector
Detects: SP 100 m/min; min.: 0.5 mm
Detects: SP 100 m/min; min.: 1mm
Peeling Strength Measuring Instrument
Pull Tester
Coating Amount Control System
Wet coating control; in-line film pressure meter
Wet coating control
Processing Examples
| | | | | | |
| --- | --- | --- | --- | --- | --- |
| Sample 1 | Sample 2 | Sample 3 | Sample 4 | Sample 5 | Sample 6 |
| PET | PET | Biodegradable film | Biodegradable film | Film | PET |
| Coloring DL | Printing DL | Biodegradable DL agent | Biodegradable DL agent | DL | DL |
| PET | PET | Biodegradable sheet | Paper | Non-woven fibers | Paper |