NS Separator
Overview of NS Separator Products
Nakamoto Parts' original functional film called "NS Separator" coated in a clean room can be used for electronic component manufacturing processes, as a protective film for polarizers, for OCA, and as a release film for pharmaceutical patches and the like.
Also, it supports printing.
You can print company logos, and product identifiers and the like.
We can also provide a type that imparts functionality, such as anti-static treatment and the like.
Usage Examples of the NS Separator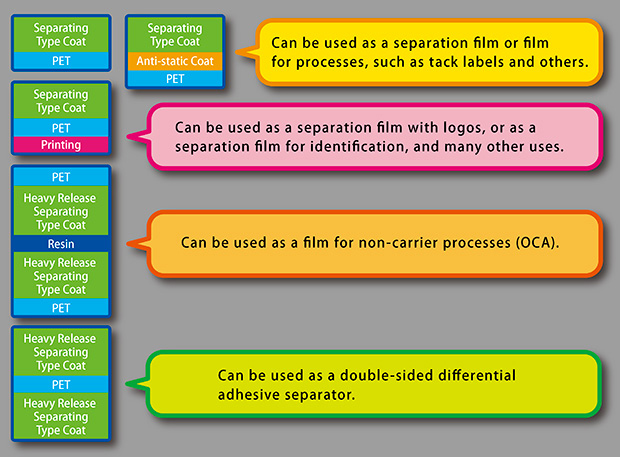 Line-up of NS Separators
The following table outlines the types of NS separators we offer.
Also, we can customize separating strengths outside of what is shown in the table below.
Furthermore, we can offer a type that handles exposure to the atmosphere, an anti-static type, and even a non-silicone type, or anything you may need.
Prescription
Normal separation strength (mN/50 mm)
Separation strength after heating (mN/50 mm)
Residual adhesion rate after heating (%)
Water Connection Angle
Si
Ultra-light Separation
FXA
MXA
XA
SA
45
65
60
65
55
65
80
90
85
75
85
85
109
108
108
108
Light Separation
Z
TA
MA
A
AUR
AU
75
80
75
80
80
100
110
100
110
120
110
130
85
90
90
90
85
90
109
109
108
108
107
108
Middle Separation
B
MBA
MB
125
125
220
215
230
260
85
85
80
108
108
106
Heavy Separation
C
D1
G
300
500
850
400
550
850
80
80
85
107
110
112
Non-Si
FO5N
T5N
600
3500
3500
5300
85
75
109
97
Heat-resistance
-
300
450
85
106
[Measurement Tape] Uses Nitto Denko Polyester Adhesive Tape No. 31B. (Display values are representative values.)
[Film]
Thickness: PET 12 - 250 µ, OPP 40 µ, CPP 60 µ, Engineering Plastic (PEN, PEEK, PI, Polyamide and others)
Width: Max.: 1,700 mm
Consult with us for general industrial use, anti-static, low-heat shrink, oligomer block, smooth and transparent, matt finish and FE control products and many others.
We also accept processing on customer-supplied films.
Also, we not only offer our line-up, but we can also customize in-line with your proposals for setting separation strengths unavailable at other companies, and film selections, and others.
We also do not set lot restrictions.
Consult with us about non-silicone and with printing and other needs.
We can support production at two branches, namely our Saitama plant and our Suzhou plant (China).
NS-PET [Heat-sealable PET Film]
New Heat-sealable PET Film NS-PET
We successfully implemented a low-temperature heat-seal PET that has its own sealability in the same way as PE and PP.
This has the combined characteristics that are the advantages of PET, namely heat-resistance, non-adhering, and fragrance retention, and can be applied to any use.
NS-PET Features
Good heat-sealability (approximately 120˚C)

Excellent chemical resistance and oil resistance.

Excellent non-adherence compared to general sealants.

Can be used with a sense of security in the aspect of food hygiene.

Does not require LL sealant film or lamination.

Can be used to manufacture bags with counterpart base materials such as paper and others.
Overheat test of our NS-PET bag in microwave oven.
[Test Content] 3 pieces of croquettes were placed in our NS-PET bag, and heated in a microwave oven.

Comparison of fragrance retention of NS-PET and competitor film of another material
[Explanation of Table]
Wasabi
Mustard
Curry Spice
Coffee
Tea
Hot Pepper
Material
Thickness (µm)
Liquid
Liquid
Solid
Solid
Solid
Solid
NS-PET
20
A
B
A
A
A
A
PETG
30
B
C
A
A
A
A
PAN
30
A
A
A
A
A
A
CPP
20
F
F
F
F
F
F
LLDPE
25
F
F
F
F
F
F
PE
30
E
C
A
B
A
D
Special PE
50
B
E
A
A
A
A
EVOH
20
B
F
C
A
A
A
A: 1 month or longer; B: Within 3 weeks; C: Within 2 weeks; D: Within 1 week; E: Within 3 days; F Within 1 day