Features and Uses of Electric Conduction Polymer Coating
Features and Uses of Electric Conduction Polymer Coating.
This is an electrically conductive sheet coated with polypyrrole, a conductive polymer that is used in electrolytic capacitors.
Compared to currently commercially available polypyrrole powder, its conductive performance is stable because there are more contact points between the powder by dispersing the approximately half of the ultra-fine powder (average particle diameter: 300 nm).
The contact points are fixed by a special binder, so contamination caused by drop-out is dramatically improved.
Coating is possible to a variety of sheets by setting all types of binder resins.
Not only our general sheets produced with gravure coating but also the sheets coated with our clean coater can be used in a wide variety of fields.
Performance of Electric Conduction Polymer Coated Sheets
[Data 1] Mechanical adhesion strength/Cross-cut test
A 1 mm gap cross-cut is inserted, and affixed with cellophane tape to observe how it is peeled when the tape is removed.

[Data 2] Chemical adhesion strength/Alcohol test
While placing a 500-gf load on the piece using a cotton swab dipped in alcohol, the piece was rubbed in an arc of approximately 20 mm x 30 mm to observe the degree of adherence to the cotton swab.

[Data 3] Humidity Dependency Test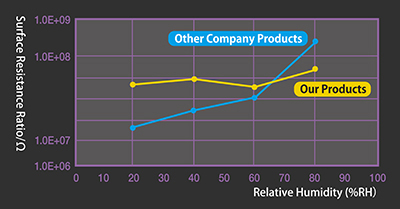 A sample was left for one hour in an atmosphere set to each humidity. Then, the surface resistance value was measured.
● Measuring instrument: Mitsubishi Chemical Hiresta UP
● Measuring conditions: Charged voltage: 100 V 30 seconds
[Data 4] Resistance to moist heat test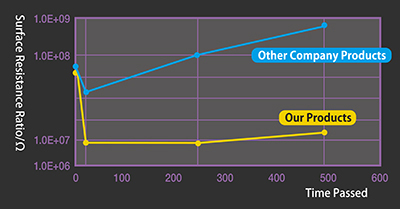 Sample was placed for a prescribed amount of time in a constant temperature chamber at 60˚C and 95%. After leaving the piece for the prescribed amount of time, it was removed from the constant temperature chamber and the surface resistance ratio was measured after drying the sample for 30 minutes in a blower drier set to 60˚C.

● Measuring instrument: Mitsubishi Chemical Hiresta UP
● Measuring conditions: Charged voltage: 100 V 30 seconds